Friends:
Wednesday, December 12, was my last day at Bissonnet Plaza Elementary. It was a weeklong residency and I had an amazing time. My first class was Ms. Roos' first grade class. I shared my book, Dinosaur Mardi Gras, and they made the cute T-Rex Mardi Gras masks. Adorable!
My next class was Ms. Finley's first grade class. It was such a joy to walk into the room because all of the children were sitting down, waiting for me. Ms. Finley had a display of all of my books, including my new ones! We had a great time with Beware, Beware of the Big Bad Bear and Dinosaur Mardi Gras. It was so much fun to work with these well behaved students!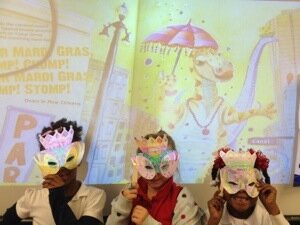 Up for lunch, I was treated to Thai cuisine by the librarian, Ellen Miller. It is our annual tradition and it's such a treat to be able to share lunch with the amazing Ms. Miller!
After lunch, I headed to Ms. Penton's third grade class. I shared my story of The Little "Read" Hen And the students made the origami six page book out of the single sheet of paper, outlining the process of writing, using my book as a guideline. We then brainstormed a story together with two animals and a situation. I love this activity! It gets the kids so excited about writing. One of the students, Brianna, said, "Ms. Dianne, I love this book! It will help me with all of my writing for the rest of the year!" Such an inspirational moment! I couldn't ask for more. 🙂 Thank you, Brianna, for adding such joy to my day!
My last class was Ms. Lemoine's first grade class. They were ready for my visit, and when I walked in, they all shouted, "Ms. Dianne! She's here!" I told my stories and then we worked on the Dinosaur Mardi Gras masks. They always come out so cute!
It's always such a treat to visit one of my all-time favorite schools! Thank you again for another fabulous year! To my wonderful students at Bissonnet, keep reading and keep writing…
Until next time…
Warmly, Dianne